Dad !!!!!!!!!!! Just come and see naa who has come to meet us , Nick Chopra says by jumping in joy .
Nick Chopra is his illegitimate son from his way by gone relationship which he had with Sumi Chopra 10 years ago and now that she has left this world his gut start to fill up with guilt off not having being there with Sumi  during her terrible times .
Krish Mehta on hearing his son′s voice feels a rush off fresh feeling and run towards him , but on seeing Radha in front off him with  her daughter Divya  he  jumps into  an arrogant boar ′s  mode and says brusquely "I  am not her nanny that you keep on making pleas like this ".
Radha just does not look at him . Keeping  Divya a note in front of him Radha slowly leaves them  .
Stunned Krish stares at her without saying  anything .Opening the letter he reads 'Your Daughter ' and this  makes  his mind go numb .Looking at Divya he could not comprehend anything .Lifting Divya up he rests her head on  his chest.
Divya is my daughter , how and when did Radha become pregnant such type of questions cropped in his heart and he then  takes Divya inside his son′s room .
Darn…Krish Mehta shouts at himself from Nick 's  balcony as he sees Radha trying to kill herself by jumping off the terrace   once again as she did not have the will to live for…errr  Divya her illegitimate or legitimate daughter  .
God Know ! He exclaims aloud .
Keeping Divya in other  room which is adjacent to his  room , Krish runs out and tries finding Radha′s whereabouts .
On finding Radha he shouts at her "What the hell are you trying to do with yourself ".
Just trying to go to 'HELL'  where my seat is reserved ! Radha says exclaimingly  and adds anyways you do not love me  .
Stupid me I  believed Destined Love theory  .Radha lifts herself up and just passes away .
Krish pulls her in his arms by giving Diviyas thread as a promise by forcing Radha to cry in rains and then he unbutton her zipper dress and bites her neck by making different designs on her back .
Radha moans and groans  in want to the pulsating need which Krish Mehta her lovely husband creates by touching soft sex spot.
To participate in this exercise please follow the guidelines by clicking on to the link given below.
And now one more interesting feature is added and that is you can now add the awesomely cool  batch   given below after writing  your story.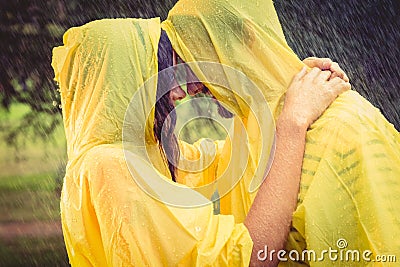 <div align="center"><a href="https://funtimewithkrishuandniharika.wordpress.com/" rel="nofollow" title="Character Visualization Exercise no 35 : Destined Love"><img src="https://thumbs.dreamstime.com/x/cute-couple-wearing-protection-cape-hugging-under-rain-park-55573529.jpg" alt="Character Visualization Exercise no 35 : Destined Love" style="border: none;" />
With Lots of Love,
Author N