"Shanaya …..its impossible to do a photo shoot of  a model  without an ace photographer like you" Rajeev says exasperated .OKKKKKK coming , Shanaya replies stubbornly . Taking a deep sigh  in  she goes to Rajeev′s office which is on  the 7th floor for a  photo shoot of a male model  required by his company 'Zeus'  .
Seeing the man who rejected her parent′s marriage   proposal  holding a cup of tea with confidence .She just closes her eyes and takes a deep breathe in and says 'Ready Guys '.Rajveer on seeing her here freezes like a snow ball ."Raj…why are you looking so  tense ?" one of female model inquires  with happiness of being enveloped by him  .
Hmm No …..Not at all OK start now Ms… Shanaya , Rajveer says sounding pensive.
OK now Get Set Ready Go….Click the camera makes a sound and she smiles at her shoot .
Good ! Shanaya exclaims by showing a thumbs up sign and then  hands her  camera  over  to her assistant .
Shanaya…Rajveer calls her name out and stretches his arms to shake hands with her. Shanaya ignores him by giving a warm smile .Do not smile at me he says ,so… should I  frown at you then  ,Shanaya snaps at him .
No !he responds in reflex.
Then ….this is your punishment Shanaya flatly retorts as she touches his flat stomach from behind.Shanaya …Rajveer whispers hoarsely by half turning his head .Looking at him Shanaya states "You love this no na then give me this electricity in you ".
Nah I cannot ! Rajveer responds positively .Look you ask me for anything under this planets and not this dear , Rajveer  repeats his above  dialogue in a painful way .
"Oh I see ..Ok then  I  better leave now, Gaah this man " Shanaya mutters to herself and starts to  leaves the room .
Suddenly he holds her entirely by turning himself to face her 'Madam there is no escape from me and this body now 'Rajveer teases her indulgently by removing his shirt off from  his leg shoulder .
Shanaya eyes widens in wonderment as he pushes her down on the carpet and undoing her jumpsuit from top to bottom he just transfers his electricity to her in form of 'kiss ki barish '.
Touching his entire body  she wraps herself and enters his being feeling his sweet kisses on her lips and now he feels that 'Punishment Feels Good Sometimes'.
To participate in this exercise please follow the guidelines by clicking on to the link given below.
And now one more interesting feature is added and that is you can now add the awesomely cool  batch   given below after writing  your story.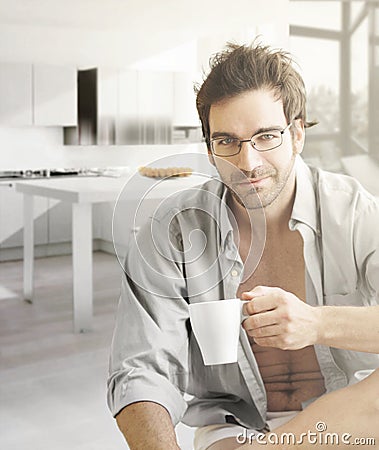 <div align="center"><a href="https://funtimewithkrishuandniharika.wordpress.com/" rel="nofollow" title="Character Visualization Exercise no 39: Punishment Feels Good Sometimes"><img src="https://thumbs.dreamstime.com/x/hot-guy-morning-28687230.jpg" alt="Character Visualization Exercise no 39: Punishment Feels Good Sometimes" style="border: none; height: auto; width: 200px;" />
With Lots of Love ,
Author N