Then Shikha smiles at him and asks"How do you do sir ?".
To this he replies by massing and kissing her plumb lips passionately . She too responded in same vigour .
Suddenly breaking apart from him ,Shikha asks him "So what happen to our honey bunch?".
Nothing much,  'Our honey bunch is feeling a bit restless 'Rohit Bhanusali says and dials Sudha Ramakrishnan′s mobile number .
Even though Rohit Bhansuali′s  family  have  their  evil eyes on everything .Rohit never grumbles about his emotional,mental and physical losses and that makes him a unique piece Shikha feels .
To participate in this exercise please follow the guidelines by clicking on to the link given below.
And now one more interesting feature is added and that is you can now add the awesomely tempting picture   given below after writing  your story.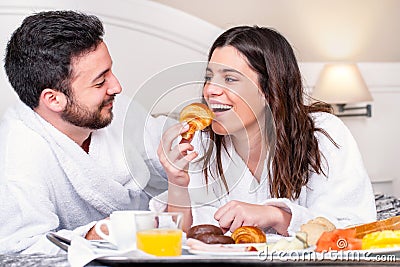 <span></span><div align="center"><a href="https://funtimewithkrishuandniharika.wordpress.com/" rel="nofollow" title="Character Visualization Exercise no 55 : Never Grumbles "><img src="https://thumbs.dreamstime.com/x/couple-having-fun-breakfast-hotel-room-close-up-portrait-girl-to-take-bite-croissant-52687232.jpg" alt="Character Visualization Exercise no 55 : Never Grumbles " style="border: none;" />
With Lots of Love ,
Author N